vMix is software that allows you to create professional quality productions on your own computer at a fraction of the cost. vMix gives you the power to add multiple cameras, videos, images, audio, web streams, Powerpoint, titles, virtual sets, chroma key, and much more to your production. You are then able to display, record and live stream your production all at the same time!
Vmix can be used in large scale multi-camera events or simple webcam one person productions. There is a once off payment to use vMix so you don't need to pay a yearly subscription fee. Once you pay for vMix you also get free Version upgrades for 12 months! After the 12 months you can pay a small upgrade fee to have the latest and greatest version of vMix.
For more information about vMix or to purchase any software or hardware, you can email us at Seth@TheCloudMediaGroup.com or call 208-661-0851
Software
One of the greatest advantages to vMix is that has no proprietary hardware and can run on almost any Windows based computer. You can use vMix as a presentation software in a classroom setting or build your own video workstation and display multiple cameras, titles and videos for a large event. From start to finish vMix is the most powerful software mixer that is available.
Hardware
We offer turnkey systems to customers that want a powerful grab n' go video system. Starting at $10,995 These systems offer 8 HD-SDI inputs, multiple outputs, full vMix software, in one complete and incredibly powerful briefcase system. More information about these plug and play systems are below along with more information about the vMix software.
Feature
Basic
Basic HD
SD
HD
4k
Pro
Total Inputs
4
4
1000
1000
1000
1000
Capture Inputs
2
3
1000
1000
1000
1000
Maximum Resolution
768×576
1920×1080
768×576
1920×1080
4096×2160
4096×2160
Overlay Channels
1
1
4
4
4
4
Recording
Streaming
Fullscreen Output
External Output
Video List
MultiCorder
Instant Replay
1 Camera
4 Cameras
Two External Outputs
Two Fullscreen Outputs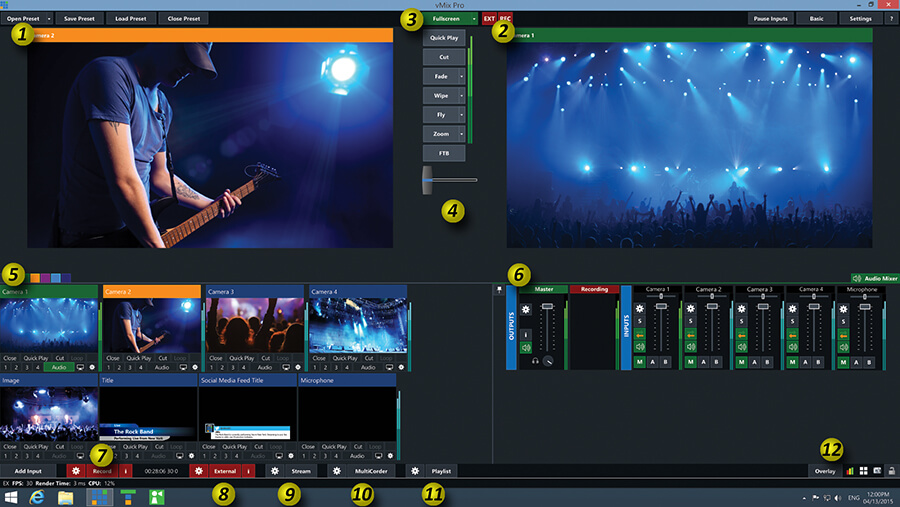 vMix Go Technical Specifications
vMix GO Base
Intel i7 4790k, Nvidia GTX 750ti 2GB, 250GB SSD System Drive, 16GB DDR3 Memory
vMix GO Plus
Intel i7 4790k, Nvidia GTX 750ti 2GB, 250GB SSD System Drive, 32GB DDR3 Memory, 2TB Storage, Failover Drive, Wifi
Video Inputs
Up to 8 simultaneous live HD-SDI video sources w/embedded audio in any combination of HD and SD format
Audio Inputs
1×2 Balanced Neutrik XLR/TRS combo jack, 1/8″ Stereo Line-in, 16-channel SDI embedded, compatible with USB devices (Focusrite, MOTU, M-Audio, etc)
Media
Up to 1000 multi-source inputs including video/audio files, PowerPoint (Microsoft Office Req.), DVD, graphics, streams, desktop apps, titles, live social media. Network sources limited only by bandwidth. No artificial DDR players, all imported clips are live and ready to play.
Transitions
Cut, Fade, Zoom, Wipe, Slide, Fly, CrossZoom, FlyRotate, Cube, CubeZoom, VerticalWipe, VirtualSlide, Merge and two custom Stinger channels.
Mix/Effects
Each input includes 5 "Multi View" overlay channels to create complex Mix/Effects. Add logo bugs, lower thirds, titles, text in combinations to create compelling productions.
Downstream Keyers
4 DSKs / overlays with individual transitions, alpha channel and custom scaling/positioning.
Image Adjustment
Color Correct, Deinterlace, Sharpen, Zoom, Rotate, Pan and Crop any input in real time. All effects are processed in 4:4:4 32bit color space for optimal video quality.
Audio Mixer
Independent control and monitoring of all audio sources with Mute, Solo, Follow (Auto Mixing), Delay, EQ, Compressor and Gain.
Virtual Sets
6 free virtual sets from Virtualsetworks.com. 5 built-in sets with full motion camera presets and high quality GPU-based chroma key. Easily build your own virtual set using standard tools
Desktop capture
Included screen capture from local/remote PC-Mac sources
Instant Replay
Full four camera instant replay system built in with continues recording and playback.
Controllers
Includes standard keyboard and mouse control with configurable shortcuts/macros. Optional vMix Control Surface available. Built in Web Controller can be used to control vMix from any web connected device on the local network. MIDI supported.
Social Media
Integrated application for live or queued insertion of Facebook, Twitter or IRC feeds. Approve and control content from any web-connected device
Output
Simultaneous record, stream and output to multiple formats/resolutions
Video Outputs
2x 3G/HD/SD-SDI, 1x HDMI, 1x DisplayPort
Audio
1×2 Balanced Neutrik XLR/TRS combo jack, 1/8″ Stereo, 16-channel SDI embedded
Recording
AVI, MP4, MPEG-2, MOV and MXF for both Program and ISO recordings with a variety of compression formats available.
Live Streaming
RTMP streaming to any CDN including USTREAM, Twitch, DaCast, YouTube and more
Multiview
Live multiviewer output to secondary display or HD-SDI with configurable layouts and titles, audio meters and tally display.
Supported Live
Video Formats
2160P (4K), 1080P, 1080i, 720p and SD Multi Format capable.
23.98, 24, 25, 29.97, 30, 50, 59.94, 60 frame rates supported.
Physical Dimensions
14.1″ x 16.5″ x 7.0″ / ~22lbs